Article originally uploaded here https://poutama.co.nz/kaitaia-fire/
Author - Garry Sommerville – Ngāpuhi
"We were somewhere around Barstow on the edge of the desert when the drugs began to take hold". (Fear & Loathing in Las Vegas, Hunter S. Thompson)
Great first line for a novel, but in our case, not quite true, as the drugs had been working their magic since long before we left San Francisco.  We'd arrived in the Golden Gate City to await a shipment of Kaitaia Fire Chilli Pepper sauces sent by sea from Auckland.  The plan was to clear these through US Customs, load them into a rental car and head East to the spiritual home of all things "hot", New Mexico, there to ply our wares.
With help from Poutama we were half way there.  We had the car, a huge Buick from Mr Hertz, the pallet of sauce was waiting for us on the wharves in Oakland California, and all we had to do was work with the surprisingly efficient US Customs and load all those bottles into what the Americans call a "trunk".  Elephants apparently breathe through a boot.
On our last night in the fabled fog of San Francisco, we met a ponytailed Vietnam vet in a bar in Laurel Heights.  He was intrigued by our accents and bought us round after round of Mexican beer.  (Even the locals won't drink the American swill.)  Our new friend (who for reasons soon made clear, shall remain nameless) invited us back to party on at his nearby apartment.
He proudly showed us a small horticultural operation he had going in a cupboard.  A hydroponic marijuana plantation which he used to supplement his veteran's benefit.  It seemed rude to refuse his offer of a sample and we passed the peace pipe back and forth till the small hours.  Bond established, and with dawn showing signs of appearing over the Sierra Nevada's, we said our sad farewells and made plans to hit the highways made famous in Jack Kerouac's "On the Road".  Before we managed to get out of there, he pressed a large bag of what he called "shake" into our hands.  In the interest of cross-cultural friendship, we gladly accepted.  Bless you brother, a quick ka kite and we were outta there.
"Drive on the right, drive on the right" became our new mantra as we soared over the Bay Bridge towards Sacramento.  We got a couple of hot drinks that resembled coffee to go at a café near Berkley and established a routine which we hoped would get us to Albuquerque alive.  No alcohol for the driver and no joints before 1pm.
Somewhere around Tahoe everything changed.  What had been neatly ploughed fields became double overhead snowdrifts and we swooped through these white canyons for what seemed like hours on end.  Exciting stuff for a couple of Ngāpuhi.  Cresting the hill, we saw laid out in front of us the blue of Lake Tahoe framed in white.  God it was pretty!
Finally, we crossed the state line and rolled into Reno Nevada, home of legal whorehouses and wall to wall gambling.  And for this weekend the first of our "Fiery Foods Conventions" in the Nevada Hilton.  We thought we were pretty much invincible by now, wowing all those other chilli heads with our funky homilies delivered in that cute Kiwi accent.
So much so that one particular participant decided that we needed educating in the mysteries in tequila.  "Bring it on brother".  Well there is tequila and then there is TEQUILA spelled with capitals.  I was a little more onto it than my cuz, so I left him to it and went in search of that pot at the end of the rainbow.
Ok so I didn't find that pot, but we had plenty of our own.  And I'm proud to say I didn't lose too much of my cash looking.  But a couple of hours cruising the casinos, sobered me up enough to remember my companion and his approximate whereabouts.  I arrived back as another round of tequila arrived for the gaggle of goggle-eyed yanks hanging on my mate's every inarticulate and strangely pronounced word.  I mean I could understand what he was saying, but I'm not sure how many of them did.  Not that it seems to matter with Americans.  Smile and nod, and they seem grateful for the audience.  It was about now that I realised how munted my mate was.
I steered him out from the throng and guided him to the lifts (or whatever they call them over there).  No one else would ride with us upstairs, and the polite young couple who did try soon prudently abandoned us.  James groaning and burping and those strange foreign voices rumbling up from the deep.  I left him hanging onto a lamp post and went to collect our trusty Buick, mothership for the next four weeks.
When I drove back to him, he'd failed to resist the pull of gravity and was slumped at the base of the pole.  How I got him into that vehicle I'm not sure, but we were only a quarter of the way back to our motel when he rolled down the window and laid around US$1100 of tequila onto the passing road and all down the car door.  I was not amused!
The next day dawned bright and clear for me, less so for James, but I was hugely entertained by the sight of my poor suffering companion out there in the freezing car park, in his jandals, scrubbing valiantly with handfuls of snow to rid our Buick of any evidence of his misfortune.
We rolled on down through the desert, the three of us, me, James and the mother of all hangovers.  Even the incongruous sight of those three-armed cactus standing tall in knee deep snow couldn't distract my mate from his suffering.  He begged me a couple of times to just leave him there in the desert, so the snow could finish him off and the coyotes could remove all trace of his existence.  I was too much of a sadist to comply, preferring to let his suffering atone as penance and on we rolled, the antipodean Thelma and Louise.
Towards evening we spotted the lights of Las Vegas through a haze of pot smoke.  James had by now recovered enough to continue rolling, claiming that it eased his nausea.  We cruised the main drag and were stopped at a set of lights when the volcano beside us erupted.  James squealed like a schoolgirl, while I, familiar with our own ring of fire, got ready to floor the gas pedal.  But it was just another roadside attraction, some faux gas-powered volcano, designed to get you inside with your credit cards.
We were too smart for those fellas; well I was driving, and James was still too sick to oblige, but not too sick to engage in conversation with some random outside our hotel.  "Look, look" cries James, "This guy has lost all he has on the pokies, and now he needs money to get home and he will sell us his diamond ring real cheap for a bus fare outta here".  Yeah right!
Don't get me wrong, I love Las Vegas, all the crass, brash unadulterated commercialism of it.  But it does seem to attract a disproportionate number of con artists.  I had no sooner dragged James away from the bargain of the century, when we met another unfortunate, this time a woman in her forties, who'd been taken advantage of and would do "anything" for a ride home to her poor sick mother.  Sorry sister, I have my own whanau to care for, and tomorrow we head to the Grand Canyon, then on to New Mexico and a rendezvous with "Chile Pepper Magazine".
New Mexico was fantastic.  The scenery, the food, the colour of the desert and the people.  We were in Albuquerque to collect the award our Waha Wera Kiwifruit & Habanero Pepper Sauce won for "Best Hot Fruit Sauce" at the Academy Awards for hot sauces.  There were 150 entries from all around the world and we tore it apart.  When American consumers write in and tell us we are onto something special it does mean a lot coming from the home of hot sauces, but when Chile Pepper Magazine recognise your product as the best it truly means that you have arrived!  "Hey, everyone, look – It's us!"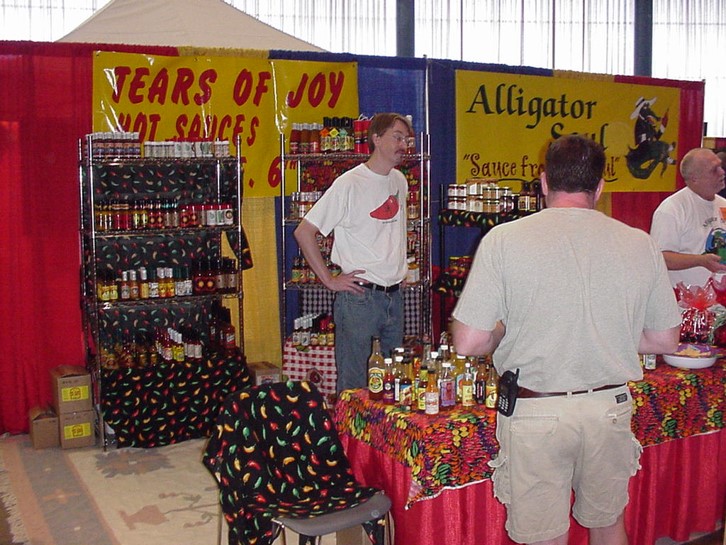 Then more hours of manic driving, through the flatness of Texas.  Dallas beckons – not JR's ranch, but another Fiery Foods Convention.  Here we mingle with other hot sauce people: Dave's Insanity, Blair's Death Sauce, Judicial Flavours (made by a lawyer of course) and plenty more.  More in fact than you could point a pepper at.  But we stand out.  Or at least we do as soon as we try and speak. "There's that cute accent again!"  So we chat, press the flesh and keep on with the industrial espionage.
Nothing is achieved without drinking though.  I guess we should have figured that something like that was a prerequisite for accompanying spicy food.  So, we do a few laps of the tequila pool, pausing occasionally to take a breath and some Mexican food.  It proves very easy to unload all the sauce hauled over from California.  When they see it in the flesh, and taste it who could resist?  (And again the cute accent helps!)  Another positive is the fact that no middle man is involved.  Less clips on the ticket and the retailers can say they got it in person from the guy who grew the peppers.  ("You know the ones with the cute accent!") and they didn't have to pay for freight or customs duties.  All taken care of my friend.
We make some neat contacts, like Brian from Texas Tears a hot sauce shop in Austin.  Brian continues to stock our sauces to this day, and still they fly out his door.  We do a few gigs at South X South West, the big music party in Austin.  Patti Smith, The Reverend Horton Heat and Steve Earl.  And food!  Man, those people can put it away.  Now I'm a big guy, and I don't hang back at the dining table, but some of the Americans made me look and feel like a refugee from Bangladesh.
BBQ was the big thing there.  These people are masters and we sampled many of the offerings from various BBQ pits around town.  Beef, turkey, lamb, buffalo and probably seal if you wanted it.  All slowly cooked in big covered pits for days on end until it is so tender and succulent that it drips off your fork.  And the other cool thing about BBQ is that it needs hot sauce.  We were in Heaven (even if it was hot enough to be Hell).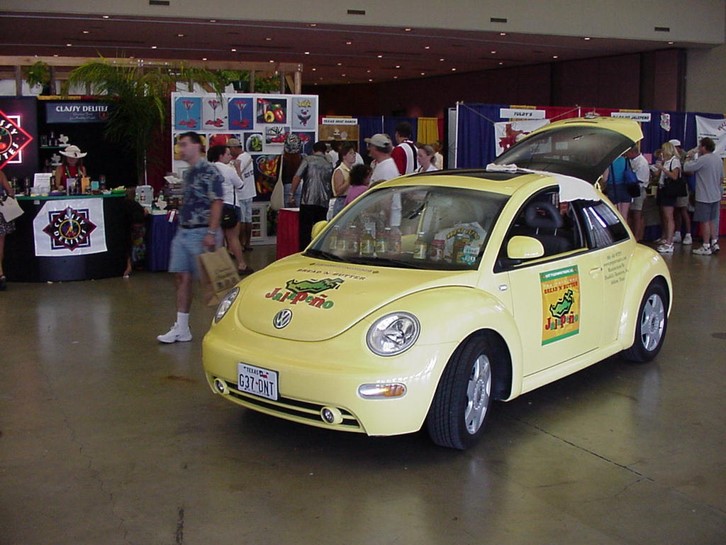 So, we waddle back to the Buick for the long haul back to the West coast.  Five days we figure, taking in a few sights on the way.  I had no idea what this trip would entail when we started our planning, but it was way more successful than I could have wished for.  We made contacts galore in the hot sauce game, and there is nothing better than getting out there and representing yourself at these industry functions.  No one knows your business or your products like you do, no one has more interest in promoting it than you, and never underestimate the advantage of face to face time.  (Even if most of it takes place through the bottom of a tequila shot glass!)